We're Getting Mutants in the MCU - The Loop
Play Sound
This page would benefit from an image about this article.
The user that placed this notice here had the following thing to say:
Upload the image here and immediately change the image description parameter.
"Clearly, there is only one way to assess this situation. I must destroy Charnel or be destroyed myself. The latter would be most unacceptable. Hence, an attack on Stygia is in order. Do it." – Stratos, The End Days (Intermission)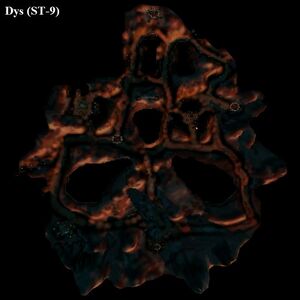 Starting Setup
[
]
Objectives
[
]
Walkthrough
[
]
"Although Charnel was expecting an attack, he was unable to contend with the obfuscating abilities of Sara Bella, who provided me a stealthy route into Dys." – Eldred
The Beginning
[
]
This mission can be played either by serving Stratos on mission eight or by serving Pyro, and the two versions differ significantly. If you have served Stratos before, you will have to face Acheron and Seerix alone. However, if you have been working for Pyro, things are a little different. In this case, as the mission starts, it will be revealed that Pyro has sent Ambassador Buta to raze Dys, and you are only meant to assist him. With this, the battle will temporarily be two on two, and Acheron will concentrate on subduing Buta before dealing with you, giving you time to fight Seerix alone. Usually, Acheron will be successful against Buta even alone, so don't count on your ally.
Unlike the other two Dys missions, Acheron is active from the get go this time around, which means that you may sometimes meet the two of them together. Therefore, you want to prepare well. Build your first manalith, then look towards the Mana Fountain south-east of your altar. You may want to build a shrine there, as you're going to be converting a lot of creatures during the mission (especially if Buta is around) and if you let your sac doctors go back to your altar, all it takes is one of the necromancers to attack the altar (which they often do) and cast a Demonic Rift to let every single creature being converted loose. If you build a shrine there, almost everything will be converted at this shrine, and the AI rarely attacks from that direction. If you feel comfortable with converting at your altar, then build a manalith here to help with your mana supply.
Now advance forward from your altar. Seerix will seek to build a manalith on the unclaimed Mana Fountain just ahead. This is a good time to catch her alone without Acheron meddling, but watch out: some creatures guard the pass in the direction of Buta's altar, and they will attack as you approach. Other than an Abomination, there is nothing that can seriously swing the battle in the necromancers' favor, but they are still a nuisance. On the other hand, their side doesn't change to either Seerix' or Acheron's upon their deaths; the enemies will still have to convert them to obtain their souls (and they will, if given the chance).
Seerix is level 9, and this means she can use Death. She also has several Mysticism spells such as Rainbow and Rain of Frogs (which she often uses), along with Grasping Vines and Healing Aura. Most of her army is summoned during the game and thus is not entirely predictable, but she has 3 Deadeyes. All in all, if you've gotten this far you probably won't find her a tough opponent if you happen to catch her alone, but her spells can make her put up a tough fight if you go unprepared. Still, all it takes is a few seconds of being unshielded and you can sic a Silverback on her, which will proceed to keep her frozen and kill her. She's very easy to kill with your Silverbacks even if she's shielded though, Protective Swarm being a weak shield, after all. Once she's dead, she'll retreat to a nearby manalith to recover, giving you enough time to convert the remains of the battle.
If Buta's been fighting along your side, about ten minutes after the start a cinematic will reveal that he's been slain, as well as his master Pyro, most likely by Marduk, as both of his lackeys are probably still recuperating from their defeat at your hands. His creatures will bite the dust straight away, which you can then convert (if not, Acheron will do so instead). If you were alone from the start, you'll soon have to fight Acheron. He's not much stronger than Seerix, although his army is a bit more threatening; a Styx and quite a few Abominations will follow him. He also likes to cast Death as a response to your Silverbacks. Deal with him just like you would with Seerix, just be more careful with the health of your Silverbacks and yourself, and if the battle seems to be going wrong don't be afraid to retreat and rebuild your army.
Banishing Seerix
[
]
Seerix should be your first target for banishment, and once you've stabilized the situation and, if applicable, converted all of Buta's leftover creatures, proceed to her altar. As always, it's very sparsely defended. Go and desecrate the altar; Seerix will likely try to hide in the village north-west of her altar (should she still control the manalith there), or will come charging at you and into her doom. If it's the former, be careful with the six Deadeyes hiding behind the village center; they're worth 12 souls if you kill them though, so you may want to get them either before or after banishing Seerix.
Banishing Acheron
[
]
After Seerix's death, only Acheron will be left to oppose you. Once Seerix's altar falls, Acheron receives additional 15 souls (irrelevant of the number of souls Seerix had upon her death). Now if you've fought him before, converted a good amount of his souls and kept him in check, this should not be much of a problem. If you've let him fight Buta and never actually met him, the addition of these 15 souls will hurt a lot more, as he will amass a large army of Abominations, Scythes, Locusts and occasionally a Hellmouth. Your Silverbacks are tough, but try not to let the Abominations bombard them for too long or they'll come crashing down.
Do cut Acheron down to size before attacking his altar, as you don't want to be interrupted by a significant force while you're there. He may still come back and cast Death, but at least you should get rid of his creatures and gather as many souls as you can. Acheron's final manalith is defended by 6 Abominations and 7 Styxes, an overwhelming force that even all the Silverbacks in the world can't tackle. If you've served Pyro before, a single Volcano spell will burn them all up; if not, though, you'll want to summon a lot of bombers (such as Seraphim), send them behind Acheron's altar, and attack from there after you soften up the defences with a Tornado-Cloudkill combo. (Tell your bombers to fly in while the surviving defenders are falling down from the sky.) If done right, this attack should finish everyone off - and if there are a few survivors, your Silverbacks should mop up well enough.
Once the manalith is down, finishing Acheron off is just a formality. The necromancer can't stop a Silverback assassination squad even if he manages to recover all his souls and build a new army. With that, Charnel, the only god left opposing Stratos, finally falls and Stratos achieves his supremacy - except for Marduk, of course.