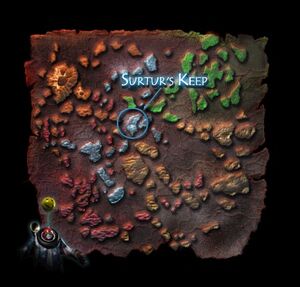 The ancient fortress of Surtur's Keep stands ever vigilant against the foes of Empyrea.
Surtur's Keep is a double archipelago and is a part of Stratos' realm of Empyrea.
History
[
]
Surtur's Keep is the home of the Storm Giants, named after their leader Lord Surtur. This is where a war between Persephone and Stratos was started, as the druid Athelas was slain here.
Related Missions
[
]
Playable during
[
]
Maps
[
]