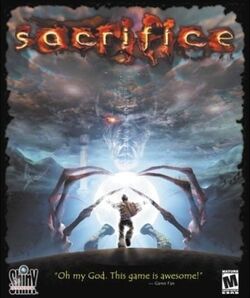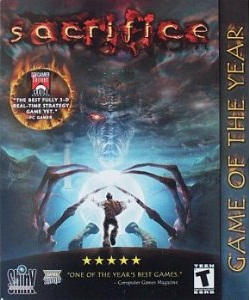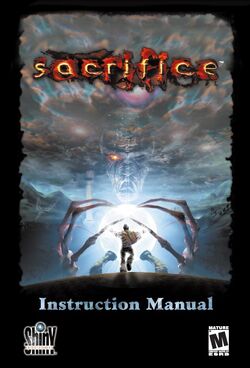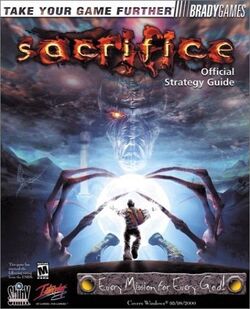 The Sacrifice Wiki is a collaborative website about Sacrifice, a video game developed by Shiny Entertainment and published by Interplay Entertainment Corporation .
If you would like to help build this wiki see this article for guidance.
Sacrifice is a real-time strategy game published in the year 2000. Players control wizards that are able to cast spells and conjure armies of creatures using magical energy known as mana. The objective of the game is to desecrate the enemy's altar.
Sacrifice's campaign follows the story of a vagrant wizard known as Eldred. Five gods offer him a home, but Eldred must settle with only one. Early on in the campaign, the gods hear a prophecy that foretells their destruction by a traitor amongst them, a traitor that only a wanderer could defeat. As a result of this, their once harmless bickering transforms into all-out warfare, and Eldred must pick a side.
Sacrifice was praised by many gaming critics for its innovative graphics, its excellent audio and its deep story with a lot of replay value. IGN considered Sacrifice the best strategy game of 2000. The European Computer Trade Show dubbed it the Best PC Game in its show. It was also one of PC Gamer Magazine's Top 100 Games for eight consecutive years.
Despite its notable qualities, Sacrifice did not fare well in the market due to poor marketing and the unfortunate timing of its release.
Campaign Information
[
]
Gameplay Information
[
]
Multiplayer Information
[
]
Scapex Information
[
]
Developer Information
[
]
Fan Content
[
]
Miscellaneous Information
[
]