David Merrick was a part of the Sacrifice Team and a Level Designer for Sacrifice.
Maps He Created
[
]
About Himself
[
]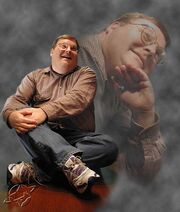 The newest guy on the team, I got my start in the bus as a result of my work as Miniatures Director for Origins. I was sitting at my table in Philadelphia when the Senior VP at SSI walked up & asked me if I'd ever considered making computer games. A dream come true!
Joining the team at SSI a few months later I had the opportunity to work as a level designer on Pacific General, Age of Rifles, and Steel Panthers 3. Looking for new opportunities I then moved to NovaLogic where I did level design and design (in varying degrees) on Comanche Gold, F-16, Mig-29, Delta Force 1 & 2, F-22 Lightning 3, Armored Fist 3, & Tachyon the Fringe. Hearing of an opportunity to work at Shiny I immediately jumped at the offer, got the offer on a Wednesday & started the next Monday, & the chance to work on Sacrifice.
In my spare time I play every game I can get my hands. Computer, paper & pencil rpgs, miniature games all suck up my time.
See Also
[
]